Math Mammoth
was created by Maria Miller in an effort to provide a better, more efficient way to teach math to students in an affordable way.
Math Mammoth
covers all the basics of math for grades K-8 in four series levels: Blue, Light Blue, Golden and Green. Each series is styled differently to work with your personal math needs either as a full or supplemental curriculum.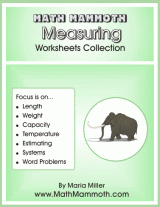 We reviewed the Light Blue Series for 2nd grade. This series included a full curriculum for my daughter. The basic math topics of addition and subtraction in single and double digit form, place value and much more. My daughter LOVED this curriculum though we have only begun to touch the surface of this massive downloaded file. The concepts are thoroughly, yet simply covered, giving plenty of practice in each topic covered. This math program has been a wonderful addition to our homeschooling days.
Math Mammoth
is extremely affordable for homeschooling families too. The full curriculum for Grade 2 on a CD is $39 or $34 for the download. The supportive package costs a low $8.95. Other curriculums are priced similarly and well worth every penny. Mrs. Miller also offers the Making It Real curriculum which concentrates on relating math to every day life and a bonus download of over 300 free sample worksheets are available FREE on her website for all to use!
To read more reviews of this wonderful
Math curriculum
please stop by the
TOS Review Crew Blog
!
*Disclaimer - this review product was provided for free by Math Mammoth and the TOS Homeschool Review Crew in exchange for my honest opinion and blog review of this particular item.