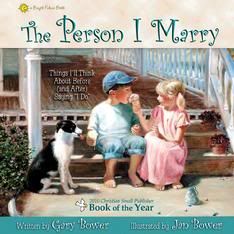 Gary and Jan Bower from
Bower Family Books
provided the TOS Review Crew with a digital copy of their absolutely beautiful book,
The Person I Marry
. From beginning to end, this book is gorgeously created. The photos are breathtaking and completely original. Even before a child can read, they will be able to enjoy the beauty of
The Person I Marry
.
The Bower's used their experiences in life and raising 12 kids to provide a book about the kind of marriage they wish for their children to have, the kind of marriage we all wish for our own children. In
The Person I Marry
, the Bower's discuss what qualities to look for in a marital partner in language young children can understand, building a foundation for the future. The images and thoughts provided by the Bower's in
The Person I Marry
are not soon to be forgotten. This is one book all parent's should add into their library.
You can find
The Person I Marry
on
Bower Books
online at a low cost of $11.99 plus shipping. This beautiful book is a full 32 pages of original artwork. Don't forget to take a look around at their other equally beautiful and creative books! Bower Books offers free shipping on orders over $30. And don't forget to ask for your book to be autographed by the authors, a free service offered by the Bower's through checkout!

Disclaimer: This e-book was provided by Bower Books and The Old Schoolhouse Homeschool Review Crew for free in exchange for my honest opinion in a written review of this book! No money was exchanged only a free product download.