Every year when our taxes come back, I look over what we need for school and try to invest it in things that would be useful for us educationally while we have the money to do so. Last year was no different and I chose to invest in one of our favorite classroom products, our iPad. This has been such a blessing for our homeschooling and has allowed us to be able to review great products like this one from
Mobile Education Tools
.
Rainbow Sentences
is an iPad app available on iTunes from Mobile Education Tools. It's designed to help students recognize grammatically correct sentences by using visual color coded cues. The basic structures of Who, What, Where, and Why of sentences are color coded so that students can better understand how these combinations work together to create basic sentence structures. With this app, students learn to recognize nouns, verbs and prepositions and have the opportunity to record their sentences in their own voice to improve their speech and other language skills.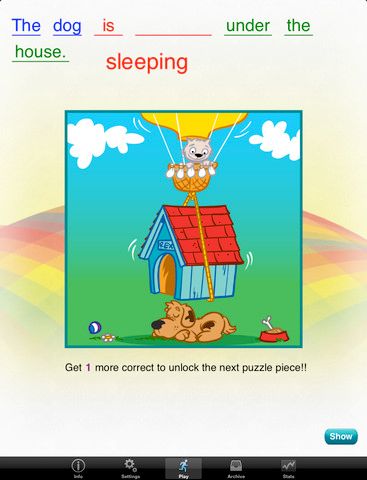 Rainbow Sentences
features 168 unique images to create a sentence from, 6 levels of sentence complexity, and color coded words for added visual support. Words are dragged to create correct sentence placement and are spoken for non-readers who may be using the app. Students also have the option to record sentences in their own voices and to save and email recorded sentences. Throughout the app, as lessons are completed, students earn puzzle pieces to encourage continued play and those puzzles come to life as they are completed, keeping the students interests active as they work through their lessons.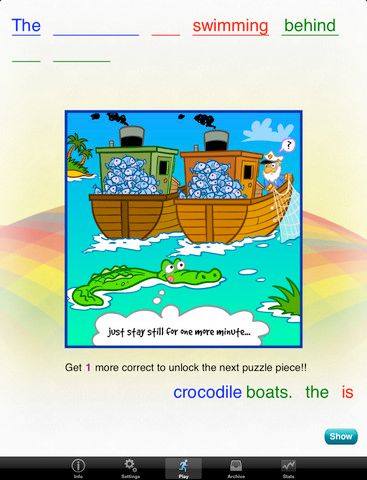 Rainbow Sentences
was a HIT in our house. All three of my children loved using this one from ages 4-11. I set the app up with their log-in and allowed them to play freely as long as they wanted. Each of them found a different interest while using the app and all enjoyed completing the fun little puzzles as they worked through it. This is definitely a product we will continue to use.
Since this app is encouraged to be used with Special Needs children, it was perfect for us. I will be able to continue using it with all three, and especially with my 4 year old who is in speech therapy once a week. The ability for her to hear the words in the sentences and also record her own voice reading the sentences will be a great help for her auditory skills, as well as for her brother and sisters skills too. This app has truly been a huge blessing in our family.
Rainbow Sentences
from Mobile Education Tools
is available through iTunes on the iPad for $7.99. It's recommended for ages 3-10 as both an educational and special needs tool. It is compatible with iPad's system iOS 4.3 or later. For more reviews of this product, please visit the
Schoolhouse Review Crew blog
!

*
Disclaimer - This app from Mobile Education Tools was provided free for me to review in exchange for my honest opinion in a blog post both by the company and the Schoolhouse Review Crew.