A Thomas Jefferson Education
believes in bringing education back to the purpose of educating the child instead of simply pleasing society. They believe the LOVE of Learning is so much more important than following along. They believe in placing education into the hands of the child, to be developed and encouraged along by the parent simply by allowing the child to learn naturally in the first place.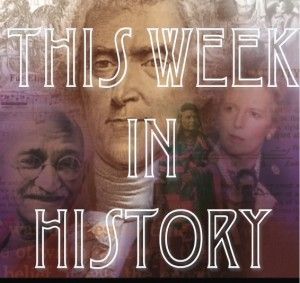 A Thomas Jefferson Education
supports the 7 Keys of Great Teaching encouraging the use of classics over textbooks, mentors over professors, inspiration over requirements, structuring time instead of content, providing quality over conformity, providing simplicity over complex learning, and educating the child instead of pleasing others through society. Each of these 7 Keys of Great Teaching work together to provide strong values and thorough knowledge in education. Each key is important to create an educational process that cannot be beat.
This Week In History
is
A Thomas Jefferson Education's
subscription program. This program provides subscribers with an email in their inbox that is packed full of educational information for the week. Each week is something new and completely different from the last allowing the student to absorb a new fact or learn about a new historical event or person throughout the week. On the website the student and teacher will find extensive lessons and information provided in the weekly email to help increase learning on the various topics for the week.

A Thomas Jefferson Education
creates an interest in learning, inspiring both student and teacher to learn more. Each lesson teaches about the topic then provides lesson ideas to continue learning about the topic. Additional links on the topic are also provided to expand past the initial interest and initial stage of learning. Lessons can be taught together or individually in a students self-learning time but they are always interesting and thorough.
My children and I have used
A Thomas Jefferson Education
for a while now as a website and we have greatly enjoyed the lessons provided by this site. The provided lessons capture their interest and keep them wanting to know more. Many lessons have lead to them expanding educationally on the topic on their own and created different interests for them. Websites like this one are a blessing to any homeschooler looking for a little something extra to use at home.