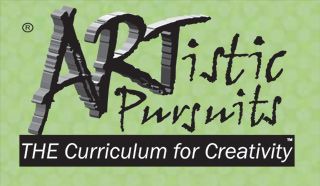 ARTistic Pursuits
was created and written by Brenda Ellis to provide a way to learn the Arts, even when parents are not sure how to teach them at home. The individualized study
ARTistic Pursuits
provides allows students to create art in relation to their personal interests. The entirety of this program is family friendly, helping to build family relationships.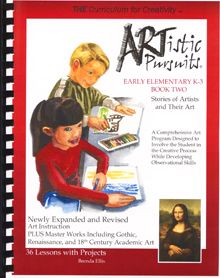 For this review, we were given
ARTistic Pursuits Early Elementary K-3, Book Two
. The
K-3 books
provide children with an introduction to the visual arts program. It teaches the student to view art through history with colorful illustrations and simple, easy to complete projects. This series provides a complete art history, examining the works of the great Masters through 36 projects which include drawing, painting, printmaking, sculpture and more.
The book itself is bound with a simple comb binding, allowing the book to be laid flat for lessons, with a clear plastic protective cover on the front and back. Provided first in the book, behind the Table of Contents, is a Materials list which tells the educator and student was is needed to complete all the lessons in the book. This list is not broken down into each lesson but is an overall list of what's needed throughout the entirety of the book. An
art kit is available on the ARTistic Pursuits website
for each book available.
There are 36 lessons provided in
ARTistic Pursuits Early Elementary K-3, Book Two
. Each lesson provides a story, a synopsis of an Artist or an explanation of a piece of specific piece of Art. Artists like Cimabue, Van Eyck, Da Vinci, Durer and many more are introduced in this book. Each artist is expanded upon sharing the story of how they came to this type of career and the type of art they developed. The artwork is then broken down so that the student can create their own personal project after learning how the original artist did it.
Projects themselves begin by providing the type of art being done such as Watercolor Painting or Ink Printing. As the student works through the projects specifics like how to hold the paint brush, pressure, paper types, gluing, and more are discussed and put to use. Each lesson provides a new project to complete. Most projects are fairly simple and easily done by the average student.
During our review period, we were able to work through several of the activities in the book. We limited our lessons to 1 or 2 per week, allowing expansion on learning about the artist themselves through research on the internet. We took time to read about the artist with the lessons provided in the book and the art they created. Then we expanded on this by looking up both the artist and the art before completing the project suggested. It was extremely easy to build upon the provided lessons without distracting from them. They could very well be completed alone but since I have a budding artist, she insisted on learning more.
Most of the projects we completed were watercolors. She really enjoys this type of art because it allows her to express her self through one of her favorite mediums: paint. She was easily able to read and discuss lessons with me, then take those lessons and implement what she had learned on her own. Her brother and sister were also easily able to follow along and create their own projects.
I personally enjoyed learning along with her through the interesting stories provided in the lesson book. The book is extensive, but not overly drawn out so that the student gets a full ideal of the artist and the artwork itself but isn't bored or exhausted by the end of the lesson. It worked well for us to do these lessons a few times a week.
ARTistic Pursuits
is available online. The
Early Elementary K-3
in 3rd edition series contains three separate books. Each book cost $47.95 per book.
Book two
is 85 pages long, with 36 lessons included and 175 illustrations throughout. It is also a non-consumable curriculum, allowing the owner to use it again and again with more than one child at a time.
*Disclaimer - This product was provided to me free in exchange for my honest opinion shared in a blog post review. It was provided to me by ARTistic Pursuits and the Schoolhouse Review Crew. No money was exchanged during the process of this review. I am included this disclaimer in accordance of FTC regulations.