See The Light
is a Christian Art curriculum. It focuses on teaching the student art principles while also teaching them the to see the beauty of God's creations. We chose to review
See The Light Paper Jungle
for this review. I chose this because I know my budding artist thoroughly enjoys working with paper in her artwork.
Paper Jungle
allowed her to do this, while learning new techniques to use on her own.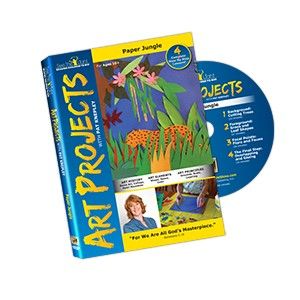 When this video program disk arrived in our mail box, I wasted no time handing it over to Emmalee. I knew she would get started right away and she wasted no time in rushing to the bedroom to watch this DVD on her PlayStation 2. It wasn't long before she came running back to gather the necessary supplies to work on her project.
Paper Jungle
requires the student to have various materials for completion: construction paper of a particular size in various colors, scrapbooking or similar paper, white glue or a heavy duty glue stick, scissors, a Sharpie marker, a pencil, a white eraser, leaves to study and a photo of a wild animal of the artists choosing. Through watching the video the project comes to life, along with learning about the specialties of God's creation.
Paper Jungle
focuses upon the artistic styling of Henry Rousseau.
The video is broken down into four lessons, which a student would normally follow along with once a week or so for Art Class. My artist is not so patient and had viewed the entire video in one day! She also completed over 75% of her project on this first day. It took a few hours the next day for her to fine tune it to what she wanted her finished product to be.
Before the week was up, my artist had created several masterpieces. Over the review period, she watched our Paper Jungle lesson video as many times as possible until she basically has it memorized. It wasn't long before she began pushing her brother and sister to watch it, too. She led lessons with them on how to do the things she had learned through
See The Light Paper Jungle
and before long we had a ton of
Paper Jungle
projects being posted around the house.
See The Light
has quickly become a favorite around our house and we look forward to purchasing more of these wonderful videos to use at home. My artist already has her eye on
See The Light's
Horsing Around, as horses are also a favorite of hers. At $14.99 a video,
See The Light
won't break the budget and will bring Art fun home for any artist.