Goldtown Adventures
tells the story of Jeremiah "Jem" Coulter and his family. Jem and his family live in Goldtown, a fictional California mining town, where people make their living mining for Gold. With Jem's Pa being the local Sheriff, Jem always finds adventure and mischief about.
In
Tunnel of Gold
, Jem's father is forced to find a way to make peace between the miners and the Chinese that have taken over the old mines. The miners must use the old shafts as an air shaft in order to blast deeper to find a new gold vein for the Midas mine. The Chinese won't give up their rights to the mine, even though the town is in jeopardy of losing all.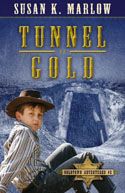 Jem finds himself in the middle of the ruckus when Will finds a way to keep everyone happy. Will Will's idea work? Or will Jem and the others in Goldtown find themselves in a bigger mess than they started with? And how much danger is Jem putting himself into by following Will's plan? To find out, you'll have to read Tunnel of Gold for yourself.
For this review, I passed this book onto my beautiful daughter, Emmalee, age 10, to read out loud to her siblings. Over a period of a week, Emma read the book, chapter by chapter. The kids really enjoyed learning about Gold mining and the lifestyles of Jem, Ellie and the rest of the gang in Goldtown. Laycie has gown around acting out parts of the book since listening to the story. All the kids wish to read more of the
Goldtown Adventures
, as well as the
Circle C Adventures book series
which we plan to read in the future.
There is an accompanying, free enrichment guide to go along with
Tunnel of Gold
which can be found on the website when purchasing this book. This enrichment guide provides a full unit study to be used along with the book, complete with worksheets and activities like building your own Miner's Stove out of a can and a small tea light candle. A recipe for doughnuts is also included in the guide, along with vocabulary for the book, crossword puzzles, and short stories to expand on the history the reader learns throughout the book. This is a wonderful expansion for the story itself.
Tunnel of Gold
is 144 pages long. There are 18 chapters within the book. There is also a Historical Note included in the back sharing more about the Gold Rush era and life at the time.