Gryphon House Publishers
graciously offered the Schoolhouse Review crew their choice of two products for this review:
Global Art
and
The Homegrown Preschooler
. I must say I was extremely torn over which I would chose. Art is a HUGE deal in our house but so is preschool learning for my younger two.
The Homegrown Preschooler
was a great reminder of many of the concepts I have previously used in our homeschooling. It gives a great explanation of using play and hands-on activities for active lessons with younger children.
The Homegrown Preschooler
gives examples throughout the book of activities, ideas and games that can be used with children of any age to develop their learning and life skills.
This 204 page book is packed with beautiful images of children engaging in various activities. This fully-colored guide for "Teaching You Kids in the Places They Live", is jam-packed full with activities dealing with math, science, reading, and much more. It includes great meal planning recipes for kids along with great recipes for play dough and other useful preschool tools.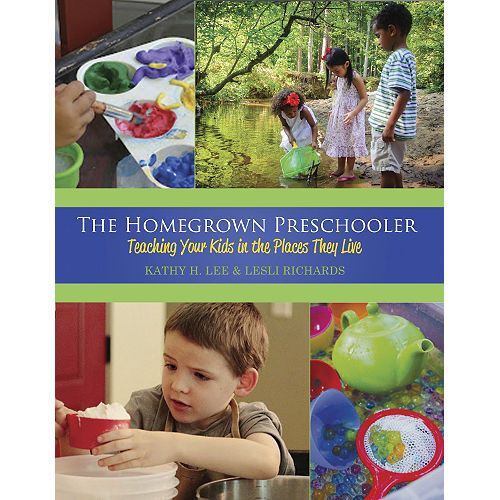 The Homegrown Preschooler
guides you in turning your home into an environment in which your children can learn. This book teaches the parent how to use the things that are available to them to bring learning home, and how to create a safe and educational place for the learning to be done in. Preschool is about play and fun and all the things that children love to do!
Inspirational stories can be found throughout this book from the authors and others who have been there done that. Fingerplays, songs and other fun activities are shared for you to utilize in your own preschool environment. There's also a great section of printables and design instructions in the back of the book for your personal use.
The Homegrown Preschooler
is written for parents of preschoolers between the ages of one and five. I chose to read and use this book with my five year old, who is a bit old for some of the activities. We were able to use much of the books suggestions though since Laycie is slightly delayed in learning due to her Epilepsy.
After reading this book, I decided making my own play dough doesn't sound too bad. I also started using more hands-on elements with Laycie, creating a few sensory bins using toys, rice and other things we have around our house. Some of these sensory play times have also made it into our bath where Laycie enjoys making a mess and then washing it up, teaching her the skills of homekeeping as she works.
Many of the suggestions in the book, are things we have been doing a long time. We work together and have Circle Times and field trips that allow our family to bond and socialize. We clean together too, learning skills from one another as we work. Sometimes I even let each child teach another the skills they are good at.
The Homegrown Preschooler
is a great book for any parent with a young child. I know I will be pulling it out in the future as Jackson grows and I am in need of a reminder for activities to do with him. This book will be beneficial for years to come as it teaches you skills and techniques that can really be used throughout the child's younger years.