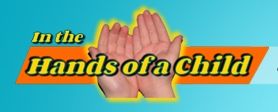 In the Hands of a Child
is one of our favorite homeschooling companies. Their awesome products have been used in our homeschool for years and will continue to be used for years to come. They are easy to use and intriguing, bringing home education to a whole new level.
In the Hands of a Child
offered the Schoolhouse Review crew their choice of several products. My favorite and my personal choice was
Pond Life
. Since we do a lot with water related activities and we have a pond and swamp on our property at home, the
Pond Life project pack
had a lot to offer to us.
As with all
In the Hands of a Child
products, our
Pond Life project pack
included all the reproducibles needed to complete the project. Purchasing rights give me permission to print this for every child in our home, more than once if necessary, so this study will be available to us for years to come. If we need to repeat the study, all we have to do is print out a new copy. It's that simple.
Pond Life
must be printed out to use. Make sure you have enough available copies for each member of your home before jumping into this study. You will also need a file folder or an old cereal box cut so that it can be used like a folder. Scissors, coloring utensils, and glue are also needed to complete this study.
Through the
Pond Life
study, your children will learn important vocabulary, spelling and all about life in the Pond. This particular study was written with the Kindergarten through 2nd grade child in mind but can easily be adapted to any age. I used it with my Kindergartener and had my 3rd and 5th grade students follow along.
So what did we learn through this study? We learned about Habitats, animals, organisms, and even pond safety. The study took us into the homes and lives of animals that we find naturally in our pond, like tadpoles and frogs, butterflies, dragonflies, turtles and more, some that we never realized may live in our pond!!
My kids really loved this study, and being able to view it first hand in our environment made it all the better! Hands-on studies are often our favorites and the fact that it was super easy to use makes us love it even more. We are still viewing the differences in water environments as we have a lot to compare in our area: the Atlantic Ocean, natural rivers, local ponds, ditches, swamp water areas. All of these can be located within 30 minutes of our home.
To get your own copy of
Pond Life
or any of the other available studies from
In the Hands of a Child
, visit their website.
Pond Life
is available for $12 regularly but is currently available for $5 at the time of this review (this is subject to change in the future).