Last year, as I was planning for school, I added American History to our list of subjects I wanted to teach next year. Over the past year, I've searched for books and curriculum to create our own study on this subject. I was lucky in my finds but I was even luckier when this review appeared on our vendor list for the Schoolhouse Crew.
Notgrass Company's
America the Beautiful
curriculum set was just the type of core program I had been looking for.
America the Beautiful
is a year long course on American History. It doesn't only cover history though. It is also a literature curriculum and geography course in one. Designed for children in 5th-8th grade, this program is designed to provide your child with a full year of lessons that cover various important events throughout America's history.
Parents can choose to complete this course in one year or expand it to two years if they prefer. Lessons are designed to be completed one per day, five per week or they can be spread to two or three lessons a week as preferred. Lessons take approximately 45-90 minutes. Extra time is required for crafts and other activities. The program is also adaptable to fit your child's or family's interests and daily activities can be adjusted to accommodate those interests.
America the Beautiful
is a beautifully created curriculum. There is no teacher's guide, as the program's directions are provided throughout each of the main texts. This is an added bonus for children who are independent learners so they can follow the program with little parental guidance if capable. Parents, too, can follow along easily without having to flip back and forth to a guide to keep up.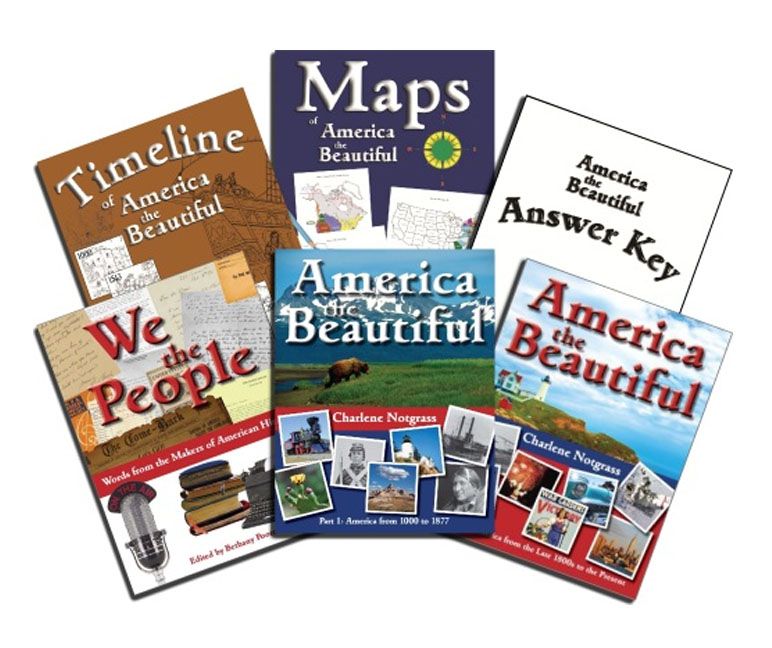 America the Beautiful, Part 1: America from 1000 to 1877
America the Beautiful, Part 2: America From the Late 1800's to the Present
We the People: Words from the Makers of American History
America the Beautiful: Student Workbook
America the Beautiful: Lesson Review
Maps of America the Beautiful
Timeline of America the Beautiful
America the Beautiful: Answer Key
Each of the books in this curriculum are beautifully crafted. The first three texts are hardback books, with bright glossy covers that draw the users attention to them immediately. The rich text are filled with gorgeous images of the time period. The accessory books are all paperback with the
Lesson Review
and
Student Workbook
having spiral binding to allow them to lie flat for lesson completion.
An additional literature package is available to expand this program to it's full capability. We did not receive this as part of our review and I did not incorporate this part of the lesson plan at the time of completion of this review. We will be adding it into our future lessons to make this a complete program for our home studies in the future.
The thing I absolutely love most about this curriculum is that it relates everything to God, from the creation of the land to the settling of America on through to today's times. The curriculum helps bring to life, God's plan and creation within America. This is a beauty that is often missed in secular history programs.
Something I found tremendously easy to incorporate with this program is science. As we learned about various animals and places in America's history, it was easy to expand upon our lessons, learning more about the animals and areas themselves. Especially in early lessons, where many of the animals discussed are local to our own backyard, such as the American Alligator which we have seen on various boating and hunting excursions - and yes, we actually do have one living way back in the back of our own backyard. Bottle-nosed dolphins can be seen off coast of our shoreline and Green Sea Turtles come up our coast to lay eggs each year.
Black bear make our hunting club their home and recently part of our hunting club was donated to make a wildlife preserve for the bear to live safely for generations to come. A recent field trip provided a great expedition to see Bison up close. I never realized they roamed our Southern Coastal lands at one time! All these beautiful animals right here where our home is!
We learned a great deal about our American Indian heritage through this curriculum as well. The different tribes and the differences in tribes. This was especially interesting to us, since Winston and Emmalee both have an extensive American Indian heritage on both their biological father's and my own side of the family. The Susquehanna, Cherokee and Lumbee are ancestors to their bloodline. This curriculum is rich in American Indian history and that was something we greatly appreciate.
We look forward to covering more history using
American the Beautiful
, particularly learning more about America's 1st settlements, including our own Charleston, South Carolina. The many battles of the Revolutionary War were fought right around our home of Georgetown, South Carolina so it will be interesting to see where our future lessons will take us on our journey to learn more outside the pages of the text book.
The Lesson Review book is probably the least used of everything we have received, along with
America the Beautiful Part 2 text
but that's because we haven't reached that book yet! I have used the
Lesson Review
to ask questions in an effort to ensure the kids are learning as we read. We, however, are not generally strict to structured learning so we do not normally utilize lesson reviews for homeschooling materials. I simply ask questions as we go along and the kids answer appropriately to allow me to gauge their level of learning from the curriculum itself. Still it's nice to have a
Lesson Review
to guide me and provide the necessary questions to ensure they are indeed learning.
I can honestly say this curriculum is one that everyone has loved. Laycie has followed along with us as we have read through lessons. At age 5, she does become bored before we get through the bulk of the lesson. Winston and Emmalee have followed along very well and it's captured their attention at times. They have enjoyed learning more about the animals and about their heritage thanks to
America the Beautiful
. They look forward to future lessons that lead to hands-on field trips for us soon.
To read more reviews of this and other curriculum from
Notgrass Company
, click the banner below!