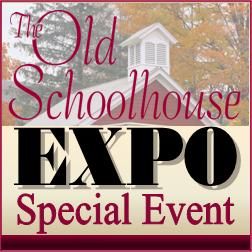 Are you ready for the
Schoolhouse Expo
? It's less than a week away. Some of the greatest speakers in Homeschooling are lined up to speak.
Diana Waring of History Alive!
is one of the speakers. Diana will join the great,
Dr. Jay Wile
in discussing the myths of science and history. They will work together to teach us homeschooling parents how to tell the difference between myth and fact in these subjects.
Terri Johnson from Knowledge Quest
will be telling us all about Homeschooling through High School. She'll discuss this major decision to homeschooling until graduation, giving tips on record keeping and planning as she guides. There is sure to be something for all of us planning on homeschooling to the end of school.
Malia Russell from Homemaking 911
will be discussing homeschooling through times of transition. Life has a lot of ups and downs but we can manage to homeschool through it all with a little support and management. Malia gives valuable tips and shares organizational skills to help us work through this stage of homeschooling life.
These are just a few of the great speakers lined up for the
Schoolhouse Expo
this year. You won't want to miss it!
This is a week long event, but don't worry if you can't make every event because the annual week long
Schoolhouse Expo
recordings will be available with the price of your ticket!
The Schoolhouse Expo runs from August 19-23 from 1pm-8pm Eastern or 10am-5pm Pacific.