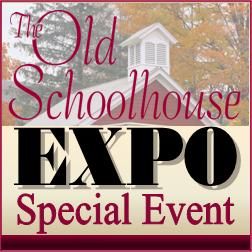 As we come to the last minutes of the
Schoolhouse Expo
, I have to say I truly enjoyed my week listening to the wonderful speakers. This was my first time at the event. It was actually my first time attending any event like this one.
At $24, the tickets were fairly priced for this week long event. Each day was a different set of speakers, on topics that varied but were all related to homeschooling. Some speakers concentrated on giving inspiration, some concentrated on helping those with struggling learners, some concentrated on planning and others shared a skill or a program that can be used in each of our homeschools in the future.
I wasn't able to attend every event, or even every day, but what I was able to listen to truly inspired me this week. My favorite thing about the expo though was that I was able to download Go To Meeting on my cell phone and listen to the
Schoolhouse Expo
through that. As I was cooking and cleaning and tending to my little ones, I could listen without being attached to my laptop in the meantime. This allowed me to catch more of the
Schoolhouse Expo
than I would have otherwise.
I look forward to the release of the
Schoolhouse Expo
recordings over the next months, so that I can catch up on what I wasn't able to hear from the original sessions. There was so much inspiration shared that I'm sure as our homeschooling year hits the doldrums, it will be inspiring to listen to all over again. The
Schoolhouse Expo
will be something that I will be happy to join again next year and for many years to come. New homeschoolers and old can find new tools and ideas through the
Schoolhouse Expo
.