Greene Bark Press, Inc.
specializes in original books that expand the imaginations of young readers. They believe that in this digital age, it's still important to provide children with solid, colorful books that allow children to grow and learn. They believe books should capture a child's attention.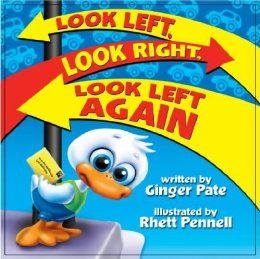 Look Left, Look Right, Look Left Again
features the adorable Wally Waddlewater. Wally wants to find a mailbox to send a birthday card to his Grandmother. Through this book, Wally learns how to safely cross the road with rules.
This 26 page board book is full of color and detail. Designed for ages 3-8, the words found in the book are challenging for the age group and easy to follow along. The story itself teaches children the rules of street safety, showing them how to safely cross the road. It also teaches safety in crossing train tracks and other important outdoor areas.
This was a wonderful book. I wanted it specifically to share with Laycie since, out here in the boondocks, we don't have many roads for her to cross. Street safety is something she really needed to learn since she can be very impulsive and what better way to learn than with this adorable book about one of her favorite animals: a duck! She absolutely loved Wally Waddlewater and now she knows how to safely cross both the road, the parking lot and the train track.
We were able to practice the lesson we learned in this book by crossing our driveway. We made sure to
Look Left, Look Right, Look Left Again
as we did it, just like Wally Waddlewater did in the pages of the book! She loved being able to reenact the story in this way and verified she had learned the lesson provided in the book.