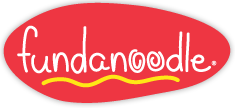 If you are looking for a fun and unique way to introduce handwriting skills to your child,
Fundanoodle
is it!
Fundanoodle
is a brand new series of handwriting tablets and tools, developed by
Carolina Pad
. These tablets make handwriting fun for young children.
Fundanoodle
features Max the Monkey and Alphie the Explorer. Max and Alphie take your child through a series of worksheets to complete in order to build handwriting skills. They are great encouragement as your child learns to write using the Fundanoodle workbooks.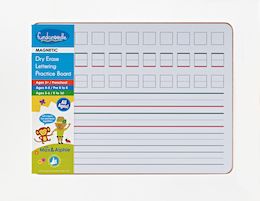 For this review, we were given a
Fundanoodle Magnetic Dry Erase Lettering Practice Board
that is designed to be used with all ages and with most of the available
Fundanoodle
products. The dry erase board is of average size and has a front and back side. The back side of the board is an unlined area for drawing and writing practice. The front side of the board has a series of three sets of blocks: one plain, one with green start and red stop lines with a dotted line in the middle, and one set with only dotted lines in the middle. Under these blocks are two sets of lines with green start and red stop lines on the top and bottom. Underneath those lines are two more sets of lines in simple black.
Fundanoodle
uses green lines to represent where a child should start their letter writing and red lines to show them where to stop their writing. This also represents green for the top line and red for the bottom line. The colors give the student a visual to follow and seeing this visual allows them to memorize where they should stop start when writing.
Since this dry erase board is magnetic, this allows the child extra space for fun magnetic practice. The child can use letter magnets to look at as they practice writing their letters. Word magnets could be used with the lined section to create sentences as well. It's just a fun addition for the board to have a dual magnetic purpose and we really appreciate that little extra fun element.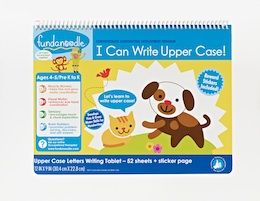 For this review, we were also sent
Fundanoodle's I Can Write Upper Case!
from their Comprehensive Handwriting Development Program. The cover of this neat writing tablet features an adorable cat and dog which immediately appealed to Laycie. The cat states "Let's learn to write upper case!" This was perfect for Laycie who has been working on writing with her therapists using another top handwriting program. Her
Fundanoodle I Can Write Upper Case!
writing tablet went well with her lessons for practice at home and is more affordable than the competing program that she uses during her therapy so it's something I am looking to add into our homeschooling to build those skills at home.
I Can Write Upper Case!
was created to be used with students ages 4-5 which of course would depend upon your child's personal skills. The suggested grade level is Pre K to K.
The writing tablet itself comes with a spiral binding, perfect for laying flat. The cover is cardboard, allowing for a sturdier writing surfaces for practicing within the writing tablet pages. The writing tablet is full color and intriguing for children with it's eye catching colors.
The first page of the writing tablet introduces you and your child to Max and Alphie, whom you see frequently throughout the writing tablet pages. The second page is a section sharing Tips for Parents, which focuses on proper handwriting technique and posture for handwriting. There are also alternative learning positions that are suggested here.
All of the pages within the writing tablet are only printed on the front. This keeps the students focus on the page they are working on instead of drawn to previous pages completed or upcoming pages to learn. I didn't really like the wasted paper but I do understand the reason it is done. The backs of the pages did make great pages for drawing and practicing letter skills though and we put them to good use doing so.
The third page of the writing tablet is the instruction page. Here you will find instructions explaining the green go lines and the red stop lines for writing. You will also find Max's personal terms for each line type which your child will be using for learning their writing skills.
At the back of the tablet are reward stickers. As your child completes each page, they will need to find the correct sticker to place on the page. Each page has a different sticker related to the page itself. This is a great way to encourage fun learning skills and to encourage completion of their work.
The writing tablet begins with focusing one by one on each letter of the Alphabet. The child will fill in the letter boxes with each letter, then write the letter on lines at the bottom of the page. This can all be completed in each lesson or you could simply break it down. A child could work on one set of boxes for three days in a week, writing the letter being learned, then come back later on to review by writing the letter on the lines. There are many ways this can be worked on to best benefit the child's learning.
We personally chose to work on writing a little at a time. Writing is a skill that Laycie has just become ready to do, so for her, writing lots of repeating letters is not fun. Instead, we used the above method of working on one row of letters at a time and coming back another day in the week to complete another row of letters. This was easier for Laycie and when she was done, she was able to place her sticker onto her writing page, knowing she had completed her work.
In the back of the writing tablet are more writing pages for practice. We haven't gotten around to using those yet but they will be used once Laycie completes her main letter pages. They will be a fun way to review all the letters at once for her. We have reviewed the full letter page chart to compare the letter forms, discuss the letters themselves as she is still learning to recognize several letters at this stage of her learning.
There are many other writing products to choose from that are just as reasonably priced. To see more reviews of
Fundanoodle
, please click the banner below.