Looking for a quality French program to use at home? Need something simple but thorough to teach French to your children? Planning a trip to France and need to learn the language? Look no further than
French Essentials
.
French Essentials
was created to be an adaptable French language program. Designed to be used with children in grades 2 and up, this program is perfect for everyone!
French Essentials
is a complete French program that is easy to use.
The website states that if a student completes one module per year beginning in Grade 3, they will complete the course during their senior year. So as you can tell, this program is extremely adaptable and lessons can be completed as needed by you and your child. Lessons for younger students will, of course, take more time than those for older students and younger students will require more parental assistance than the older students will need.

French Essentials
is designed to be used both on and off line with students. Modules are expected to be downloaded to print off the worksheets necessary for the lessons. There are currently 5 modules. Module 1 contains 20 lessons, the student workbook, keys and a module checklist. Module 2 contains 25 lessons, workbook, keys and checklist as well. Module 3 contains 15 lessons along with the workbook, keys and checklist. Module 3 also includes a Pronunciation Workout as well. Module 4 contains 16 lessons, the student workbook, keys, checklist, Pronunciation Workout and also includes Video Scripts to use. Module 5 contains 15 lessons. The first 5 lessons contain the lesson workbook and key to use while learning.
The lessons begin with the pronunciation of the French Alphabet and moves forward from there. Lessons are thorough but not too intense, packing just the right amount of learning within them. Each lesson contains several exercises to complete and can be done in a day or more as needed. They are completely adjustable to your personal schedule.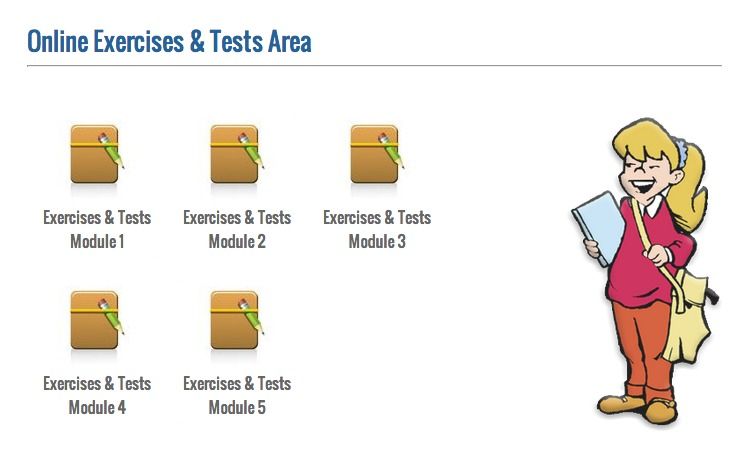 Each module includes links to everything that is needed within the lesson. So sounds play right as you need them within the program simply by clicking on the microphones to activate them. The sound bites are created by French speakers so the correct pronunciation is best learned. Online exercises can also be reached by logging into your account online to connect to the necessary module per lesson.
There are also links to learn about the French culture included with the lesson plan. These are available by clicking on "culture" in the Student Area. These extra little tidbits bring to life the lessons you are learning as your work through the program. They are a fun bonus to help your child better connect with the French culture.
We were able to fit this program in as needed during our days. When we found an extra moment, we worked on a module. Since the modules were printable, I simply printed out what I needed to and use the kids computers to complete the sounds and videos that went along with the lessons. All three children worked together on these lessons with ease. This was a refresher course for me as I took two years of French Foreign Language as a course in High School but I desperately needed the brush up!
French Essentials
can be purchased in individual modules or as a full set, your choice. Each individual module costs $69.95 and each purchase is available for 90 days. The
French Essentials full package
for the year can be purchased for $149.95. This includes the lesson downloads, sound bites and videos used during the lessons.