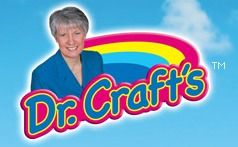 Young children are always on the move. This often makes it challenging to keep them occupied. Their constant need for activity can often be challenging for adults to come up with new ideas to challenge them.
This is where
Dr. Craft's Active Play!
comes in. Dr. Diane Craft, with the help of Craig Smith, has created an excellent program. Designed to be used with Toddlers and Preschoolers, this program is sure to keep children moving and learning. The activities are entertaining and challenging but not too overwhelming for young children to do.
Dr. Craft's Active Play!
comes in a spiral bound book, made to lay flat or fold so that the educator can read the book easily while working with children. Also included is an award winning DVD for the educator to view to see just how the activities work in real experiences. This is a great bonus to better understanding the suggested activities.
Through the beginning of the book, the educator learns the importance of physical activity in young children and how children learn through physical activity. The educator will also learn how to lead these activities with young children and how to prevent such activities from getting out of hand while working through them.
Activities like All Stop and Go to Music, Feed the Penguin, Clean Up The Floor, Easy Kicking and more are included in this book. Every activity gets the child up and moving, keeping them entertained while teaching important skills in the process. The activities can easily be tweaked so that children don't become bored with the activities each time they are used.
I used this book with all three of my older children which allowed my youngest to have the most enjoyment with the program. She really enjoyed the All Stop and Go Music activity which we took turns controlling the music for. We also took turns leading the activities we tried which encouraged leadership skills in all of my children.
Clean Up The Floor is an activity I adapted to fit us by having the children really clean up the floor. We carefully tossed soft and light weight toys into boxes across the room as we picked up things that were out of place. We also stretched streamers across the space to make this more challenging. Once the items were up and in boxes, I had the children put them away. This activity was great for encouraging cleaning and listening skills at the same time.
Another activity that we enjoyed was the Outdoor Obstacle Course which we created using our small playgym, our glass table and netting. The kids really enjoyed climbing over the netting, under the table and over the play gym. This was a great occupational and physical therapy activity. The textures and physical activity worked great.
Dr. Craft's Active Play!
will be a program I continue to use with Laycie and my other children. The ideas are extremely helpful for working with her therapy-wise at home. My older children benefit from the physical activity and the bonding time spent together.
Dr. Craft's Active Play! book and DVD set
are available for $39. This book contains 52 challenging activities and is created for use with Toddlers and Preschoolers, though I also used my program with my older children. It's perfect for special needs children too!