Have you been looking for a simple, easy-to-use way to teach Spanish to your children? I have and thanks to the Schoolhouse Review Crew, I finally have it!
See It and Say It Flip Flop Spanish
from
Flip Flop Learning
is the best Spanish program I have found for early Spanish introduction thus far.
Directed by Senora Gose,
See It and Say It Flip Flop Spanish
will teach you all the basic Spanish words you could want to learn. This program is designed to be simple without a lot of book work. In fact, you will find most of your lessons on the four included CD's in the program. 45 complete lessons are included on the CD's and all you have to do is follow along.
The program comes with a full lesson guidebook and flash cards designed in three sets of Azul, Rojo and Verde, each representing different types of words for learning through following the program. These cards should be kept separated with either rubberbands or ziploc baggies so they are easily located as called upon in the lessons throughout the program.
Each card is designed with a photo of the word you are learning on one side and the Spanish word, Spanish pronunciation and the English word on the backside. Each card also includes a number to make location of the card easier and a color representing the color of the card set. These fine details make the program even easier to use.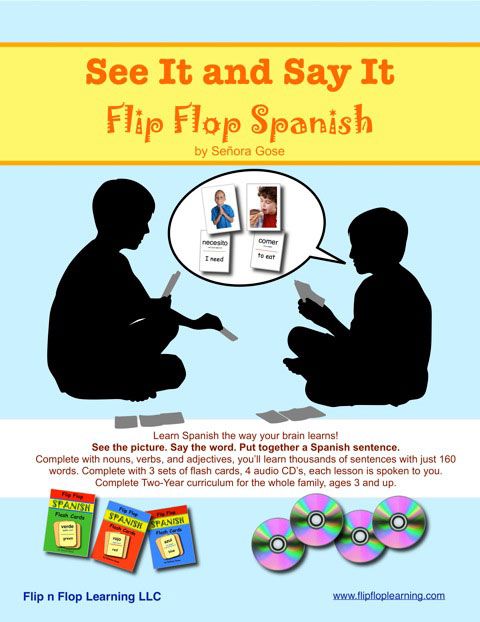 See It and Say It Flip Flop Spanish
can be completed in a year or two years as you see fit. Lessons are to be completed at least once a week, worked through then began again so that thorough learning is completed. The program has been created to be used with ages 3 and up so it can easily be adjusted as needed to skill level of your student.
Each lesson should take 3 days a week to complete. Each day, the teacher or student should lay out the lesson cards to be learned through the week for that particular lesson. On day one, students should listen to Senora Gose on the accompanying CD for that lesson. Students should view the cards as Senora Gose goes over them on the CD. Students should also complete sentences along with the CD and Senora Gose's vocal help, learning to correctly speak Spanish in the process.
On day two we repeat the lesson with the CD, going a bit faster since it's really just a review of day one. On day three we complete the lesson by reading through our guidebook instead of listening to the CD. This shows what we have learned together, ensuring that we are indeed learning our words in Spanish. If needed, we can listen to the CD again to ensure we are speaking the words correctly but it is not necessary on day three of our lessons.
Included with
See It and Say It Flip Flop Spanish
is a dry-erase pen and a dry-erase paddle. This is so that students can play Pictionary with the lesson cards and review their words in a fun way. We also used our paddle to practice writing our words both in English and Spanish.
The thing I really loved about this program is that it could be easily carried along with us. Lessons could be listened to in the car while we traveled back and forth to doctors appointments. We reviewed the cards while we were in the doctors office, discussing what card represented what words. We also created sentences while waiting in the waiting rooms. This was easily done together.
Since
See It and Say It Flip Flop Spanish
basically repeats itself, with listening to the lessons for two days and reading the lesson aloud ourselves on the third day and it carries the words forward onto other lessons, it creates a review in itself with little book work needed. There are crossword puzzles included for review as well. They aren't something that young children would be able to complete but are great for older students to use to ensure they are learning the words in the lessons.
Throughout the lesson guidebook, there are many suggested ways to expand lessons. One of our favorites is the suggestion to watch our favorite videos, only switching them to the Spanish version to see how many words we can understand. This was fun and funny to my children. It is something we will continue to use when learning different languages in the future.
See It and Say It Flip Flop Spanish
is truly amazing. We have learned so much while using it these past few weeks. It doesn't take a huge amount of time to complete, nor does it require a strenuous system to keep up with. It is one program that we will definitely be continuing to use.
You can purchase
See It and Say It Flip Flop Spanish
for $99.95 plus shipping. It is well worth this price. There is also an available app for purchase through iTunes that allows flashcard review of the program digitally.