ScienceandMath.com
has been creating quality Science and Math videos for learning since 2004. These simple and easy to learn from videos make learning and teaching Math and Science easy.
ScienceandMath.com
really shows students and educators how to use Math and view Science in methods outside of traditional teaching styles.
For this review, we were sent a copy of
Mastering 5th Grade Math - Volume 1 - Essentials of Fractions
. This is a full-length video course with instructional videos on learning to the process of completing fractions in Math. Included with this DVD video are also worksheets which can be printed to go along with student lessons.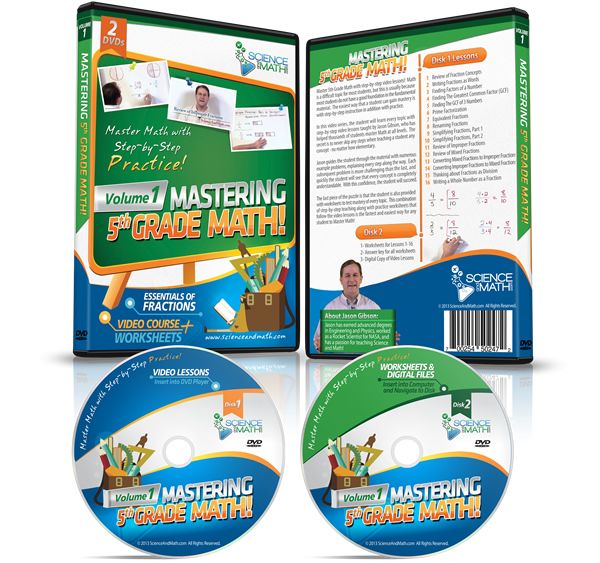 Since this video is instructional, I was able to let my 11 year old daughter and my 13 year old son watch the video, follow the lead of the instructor and complete the lessons themselves with very little input from me. They found the lessons simple enough to follow. They honestly chose to watch the video through completely the first time I handed it to them, much as they did last year when we reviewed Amazing Science from
ScienceandMath.com
.
When I received our DVD, I immediately printed out the necessary worksheets for them to complete as they worked through and watched the videos. The worksheets are basic and go along with the lessons as they are following along in the program. They were able to view their video lesson for the day and grab the worksheet that went along with the lesson to complete.
We worked through this video for several weeks, working on one lesson per day for the review period. We did not work on the lessons daily but we did work 3-4 days a week. I put no time limit on how long they took to complete their lessons. They would work through until they were complete and we reviewed the videos until they were able to understand the lessons they were covering.
Mastering 5th Grade Math - Volume 1 - Essentials of Fractions
taught my children all about Fractions. Through this video, they learned to write fractions out as words and numbers. They also learned about the Greatest Common Factor of a number. Prime Factorization, equivalent fractions and renaming fractions was also covered in our lessons on this video. Simplifying fractions, mixed and improper fractions were also all covered through videos
http://www.scienceandmath.com/
on this disk and more.

You can also find ScienceandMath.com on Facebook: